that bathroom looks retreat-ish. like a place to hide out in and bathe away the bullshit. i would throw an old-timey radio on that vanity and listen to something sad like billie holiday and smoke cigarettes.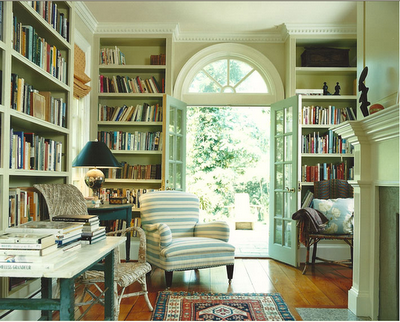 nice library. love all the mismatched chairs and open door...it smells good in here, like books and coastal cypress.
i love when a mirror reflects pretty. and cloches are always a nice addition to your decor.
i am unsure of the floor...are those gray rugs thrown down or is that something inlaid in the wood? either way it's nice and so is that tribal looking rug..everything about this space is delightful. open plan at it's best.
for me it's all about that tub and those goddamn moroccan inspired towels.
i am a sucker for a room that is ill defined. this is the room that as a little girl i would steal away to to dance or pretend it was my very own office or lab or hospital or general private quarters or plan my date with jason bateman..
cozy.
who doesn't love a big fucking anchor? this room is special.