craigslist is a great place to score shit. better than ebay b/c i don't have to pay astronomical shipping prices for similar pieces. which brings me to my problem. are these pieces? as in "pieces of shit"? the point here people is that these items are ridiculously affordable, even for someone like me. well, affordable for furniture. so here's what i am thinking and then i want to hear what you're thinking, okay?
piece #1: antique desk- 75 bucks. painted white, new hardware. daughter's room.


piece #2: antique duncan phyfe couch- 35 bucks! so for all i know the springs are kaput and i would need new everything BUT...what a pretty little couch. paint it white and fabric it all up in some kind of liberty of london goodness and..whammo...kickassedness!

piece #3: a pair of antique chairs- 75 for the pair. not a bad looking shape, although not sure what the legs are like. but those can be replaced. they seem to be in good condition. again with some fun fabric and 2 IS better than one for making a statement.
piece #4: eames era baumritter chair- 55 bucks. again i realize 2 is better than one but this is a pretty cool chair, right?
piece #5: eames ear lounge by plycraft- 100 bucks. can't tell about the color, seems a little too orangey. but if in person it's a more neutral caramely color it might look astonishingly pretty in a white room. or a la jamie meares with a sheepskin draped effortlessly over.

piece #6: antique hat rack-50 bucks. this is the perfect size for a small entry. a little paint and some distressing and yes, i think so.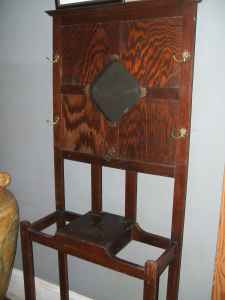 piece #7: highback cane chair- 50 bucks. me likey this one quite a bit. just wish there were 2.

piece #8: kidney bean coffee table- 185 bucks. kinda steep but it's pretty darn cool. don't need a coffee table really, but if i did...i don't know...maybe..painted white.
piece #9: mid century mccob planner group end tables- 60 for the pair. bedside tables painted white..BAM! BAM! they're tall too!
piece #10: antique gooseneck rocker- 130 bucks. this is so unique and fabulous with those goose arms. if i was pregs and needed a rocker for the nursery i would be all over this.
piece #11: oak dresser- 75 bucks. painted a lacquer-y black with some cool harware and stuck in a kitchen or dining room with some pretty dishes on top, or a wide hallway for towels if you have n'er enough closet space. why yes indeed.

piece #12: antique wicker chair- 10 bucks. come on. paint this bright yellow and stick it in your bathroom. done.
ok MFaMB lovers...tell me what'cha think. the good, bad and the ugly. don't hold back. i need some criticism here. what would you do different?